Close Attractions
For general information on the area please visit : Heart of Argyll Wild about Argyll
Kilmartin Glen is one of the world's most significant archaeological landscapes. The unique archaeological remains and rich natural heritage were the inspiration for the creation of Kilmartin Museum, which opened in 1997. For 20 years, Kilmartin Museum has been collecting, conserving, and revealing the stories of this special place and the artefacts found here. Within six miles of Kilmartin there are over eight hundred ancient monuments. They include burial cairns, rock carvings, and standing stones, as well as the remains of the fortress of the Scots at Dunadd and more recent castles. When visiting Kilmartin Glen, it is best to start at the Kilmartin Museum. This is located in the old manse in Kilmartin village and admission includes an atmospheric audio visual presentation as well as entry to the museum itself which includes a model of the glen. There is also an excellent cafe and gift shop here.
BOAT TRIPS
There are many different boat trips available in the surrounding area - to see the Corryvreckan whirlpool, wildlife trips, whale watching, trips to Staffa to see the puffins (seasonal, May - August), Here is a list of some of the boat trip providers and locations you can depart from:
Craignish Cruises 12 miles from here, 20 minutes drive time, departing from Ardfern Yacht Centre. Various trips - Corryvreckan whirlpool, wildlife, whale watching, puffins on Staffa.
Venture West 6.5 miles from here, 14 minutes drive time., departing from Crinan Harbour. Short trips and day trips including Corryvreckan whirlpool, wildlife trips, Staffa and Iona, the Garvellachs.
Sealife Adventures 30 miles from here, 50 minutes drive time, on the Isle of Seil. Corryvreckan whirlpool and wildlife trips.
Seafari Adventures 33 miles from here, 59 minutes drive time, also on the Isle of Seil. Corryvreckan whirlpool and wildlife trips.
Staffa Tours Based in Oban, 33 miles from here, 55 minutes drive time. Boat trips to Staffa to see the puffins. Treshnish Isles, Mull and Iona.
Turus Mara Departing from Oban, 33 miles from here, 55 minutes drive time. Trips to Staffa to see the puffins, Treshnish Isles. They do a combined ticket with ferry from Oban to Mull, then courtesy bus over to Ulva ferry.
TAYNISH NATURE RESERVE
Taynish National Nature Reserve lies at the end of a hidden peninsula, just 30 minutes drive from here. If you really want to get off the beaten track this is the place to visit. The peaceful oak woodlands are interspersed with grassland glades, heath, saltmarsh and shoreline. The reserve provides a truly amazing landscape that?s teeming with wildlife.Trees have stood here for more than 6,000 years. A magical mosaic of mosses and lichens drapes from the trees and carpets the ground. You might see roe deer, red squirrels and otters. Butterflies, beetles, dragonflies and moths flourish in flower-rich grasslands.
There are three waymarked trails with picnic benches where you can stop and have your lunch. The 360 view from the top of Barr Mor is breathtaking and well worth the climb.
CYCLING
We are located on NCN Route 78, the Caledonia Way. There are many beautiful cycle routes in the local area directly accessible from Kings Reach, including the Crinan Canal and Kilmichael Glen and Loch Awe. We have our own list of tried and tested routes provided by a previous guest. We also have the Firetower Trail a challenging mountain bike trail at Achnabreac just a few miles away. Other forest cycle routes can be found here Mid Argyll and Kintyre Cycling. We are cycle friendly and have a large garage for dry secure overnight storage of cycles with drying racks for wet clothing. We can also provide Vegan packed lunches if pre-ordered, just bring your own lunch box for us to fill.
We now have a new cycle bothy located at Ardrishaig at the start of the Crinan canal. For advice on cycle routes in the local area, just pop in to see them. https://www.facebook.com/ArdrishaigBothy/
Dunadd Fort is one of the most significant monuments in the whole of Scotland and it's summit offers a breathtaking panorama of the surrounding landscape. There are views of Dunadd from the house and cottages. Between AD500 and AD900 this was one of the most important places in what has since become Scotland. The original Scots were migrants from Ireland who from about 500 settled across Argyll in ever greater numbers, founding the Kingdom of Dalriada. Dunadd was the capital of the kingdom and was the place where its Kings were anointed.

https://www.historicenvironment.scot/visit-a-place/places/kilmartin-glen-dunadd-fort/history/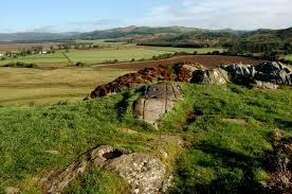 This exotic splash of wilderness is a Himalayan-style glen, set in the gentle hills of Argyll.
The sparkling waters of the Crarae Burn form the centrepiece for a woody paradise of rocky gorges, wooden bridges and thickets of maple, birch and evergreens, blending with sprays of flowers. The garden hosts an amazingly varied collection of trees, some champions of their species, and a National Collection of southern beech. Only 25 minutes drive from here and a peaceful tranquil haven with spectacular views over Loch Fyne.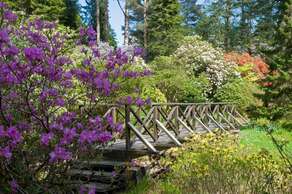 Inveraray Castle is the ancestral home of the Duke of Argyll, Chief of the Clan Campbell and the iconic, must-see visitor attraction on the West Coast of Scotland. The garden covers sixteen acres, of which, around two acres are formal lawns and flowerbeds, the remainder being park and woodland. Extending to 180 hectares they form one of the most important designed landscapes in Scotland. You can go inside the castle and look around and there are walks in the gardens and woodlands. 45 minutes drive from Kings Reach.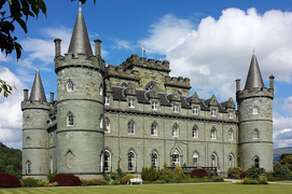 The Scottish Beaver Trial has been responsible for reintroducing beavers 400 years after being hunted to extinction.
In the heart of Argyll lies Knapdale Forest where beavers are thriving since being reintroduced in 2009. These industrious creatures are a sight to see if you are lucky (and patient) enough to spot one.

A trip to the Scottish Beaver Trial in Knapdale Forest is a great family day out where you can be a beaver detective for the day and look out for signs of beaver activity. Start the day at the Barnluasgan car park where you can learn about the beavers in the Barnluasgan Information Centre. Take to the two hour, three mile trail around Dubh Loch and Loch Collie Bharr.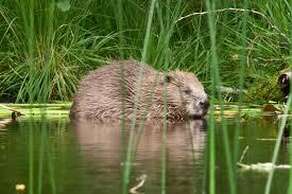 MOINE MHÃ'R NATIONAL NATURE RESERVE
Moine Mhòr is a nature reserve with a mixture of mossy hummocks and open pools rising in a shallow, peaty dome. Fast moving hen harriers quarter the moss in search of prey whilst summer light catches on the glint of a dragonfly. In autumn, the reserve is dominated by the deep red tones of sphagnum moss, soaking up water like a sponge. Older than many of the standing stones in the surrounding glen, Moine Mhòr has locked many years of history into its silent layers of peat.
The reserve is one of Scotland's oldest landscapes, with 5,000 years of history locked in its layers of peat. From any viewpoint visitors will see how the surface of the bog has formed a huge, shallow dome. Moine Mhòr is also one of the few landscapes in Britain which takes in saltmarsh, peat bog, woodland and hillside.
There is a car park, picnic area and a trail suitable for all abilities.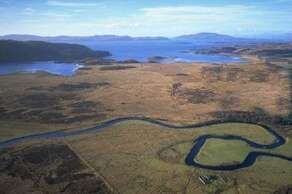 Just 11 minutes drive from Kings Reach - Take in the view from the top at one of Argyll's finest Renaissance residences. Carnasserie Castle is a roofless ruin today, but it was once a fashionable residence incorporating many of the latest Renaissance influences. It was the home of the first Protestant Bishop of the Isles, Master John Carswell, and its design is befitting of a man of his stature. From the parapets there's a magnificent view down to Kilmartin Glen, which is home to a range of marked rocks, cairns and standing stones, some of which are visible from the tower. Open every day.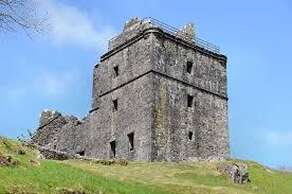 Approx one hours drive from Kings Reach - One of the most photographed castles in Scotland situated at the head of Loch Awe. Kilchurn Castle was a fortress, a comfortable residence and later a garrison stronghold, and contains the oldest surviving barracks on the British mainland. Its five-storey tower house dominates the complex, with a lower hall, courtyard and barracks below.
Kilchurn Castle was built in the mid-1400s, and it remained the base of the mighty Campbells of Glenorchy for 150 years.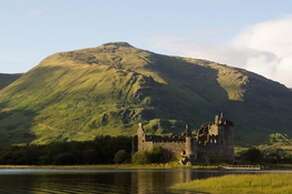 Step through the doors of Inveraray jail and step back in time to a 19th century prison. Experience what real life was like for real men, women, and children - some as young as seven - who were tried and locked up here. Explore the atmospheric historic buildings at your leisure and meet the costumed characters who animate the past in this unique living museum.
Scotland's most beautiful short cut, a 5 minute drive from here -
The Crinan Canal starts at Ardrishaig on Loch Fyne, and ends nine miles away at Crinan on the Sound of Jura. It was designed to provide a quick link between the west coast and islands at one end and the Clyde Estuary at the other, and so avoid the long voyage around the south end of the Kintyre peninsula. There is a magical network of paths, lock gates, towpaths and shoreline to wander around including the famous Crinan walk taking visitors to the heart of Knapdale forest before reaching a high point at Castle Dounie as well as a buzz of activities which mainly these days revolve around yachts and crafts.
Start your visit to the Crinan canal at Ardrishaig - There is now a brand new maritime museum called The Egg Shed located in Ardrishaig at the start of the Crinan canal which tells you all about the history of the canal. There is also a lovely cafe called the Steamer Terminal and we now have our own mini Kelpies! In addition there is a new Ardrishaig Cycling Bothy at the same location which promotes cycling and walking in the local area. For any help/advice with cycling routes, or anything to do with cycles, just pop in to see them.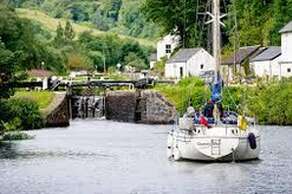 Arduaine garden is owned by the National Trust for Scotland and is just 25 minutes drive from here. The coastal viewpoint is just stunning.
Arduaine lies on a rocky promontory at the head of the Sound of Jura and enjoys the warming benefits of the North Atlantic Drift, allowing for a wider range of plants than is usual in this part of the world.
Embark on a world tour as you explore the exotic garden.
Admire the spectacular array of colourful plants including rhododendrons, azaleas, magnolias, giant Himalayan lilies and forget-me-nots.
Discover the secret path to the coastal viewpoint.
Soak up the breathtaking views over the Sound of Jura.
Hunt down the swamp-loving carnivorous plants!
The garden nurtures plants from across the globe –from East Asia to South America. Red hot pokers, sensuous camellias, tree ferns and water lilies create a palette of vibrant colour, whatever the season.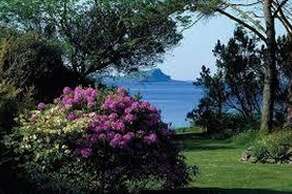 Discover a landscape carved from rocks, cloaked with trees and haunted by legend. These native oakwoods are only 6 miles from here and rich with wildlife. Gaze over breathtaking views, and maybe catch a glimpse of red deer, red squirrel, golden eagle or otter. Or simply enjoy the tranquillity. There have been beavers here since 2009, which you may spot at dusk or dawn. Walkers can explore these native woodlands along waymarked trails. Don't miss the Bellanoch viewpoint with breathtaking views over the Add Estuary towards Crinan and the sound of Jura.